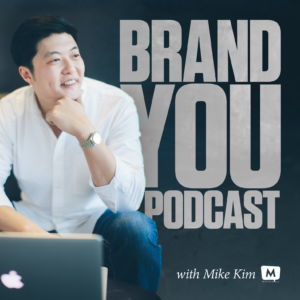 The Brand You Podcast is dedicated to helping you build an influential and profitable personal brand.
Each episode draws from my background in organizational leadership, public speaking, coaching, and marketing experience as chief marketing officer of a multi-million dollar brand to help you live your message, love your work, and leave your mark on the world.
To get the most out of the podcast, join my FREE Brand You Community and connect with fellow listeners as they implement winning strategies into their personal brand businesses.
Subscribe:
Feedback:
If you have an idea for a podcast or a question about an upcoming episode, email mike@mikekim.tv  Also, if you enjoyed the show, please rate it on iTunes and write a brief review. Reviews help the show rank and in turn, make it more visible to a larger audience.
Personal Note: I would not have been able to launch my podcast without the help of Cliff Ravenscraft and his Podcasting A to Z course. If you are interested in launching a show, I strongly suggest you invest in his course. Here is my personal review of Podcasting A to Z. If you elect to take it, use the code "MikeKim" for a whopping $500.00 discount! Register for Podcasting A to Z here.