We spend roughly one-third of our lives at work, yet statistics show that an overwhelming number of people are unhappy with their careers.
Having gone through several pivots in my career, I wanted to interview several people that made similar transitions in order to help you find clarity on next steps.
In this episode I interview Celina Lee, host of the Live Your Dream podcast. Celina is a career coach, public speaker, author, and founder of a non-profit called Give One Dream, based in New York City.
Celina left a very successful career in investment banking and law to take charge of her life and reinvent herself, and in this episode she shares a bit of her journey along with 3 steps to help you find fulfillment at work.
Download Your Free Gift, The 3 Steps to True Career Fulfillment Here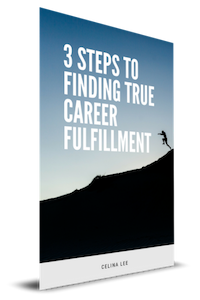 There comes a time in your career when you question your professional happiness and fulfillment. This can be a defining moment if you put your passion, aspirations, and needs into action.
With the right formula and a little momentum, you can be happy and fulfilled personally and professionally. If you're looking for clarity and next steps, check out this free guide, The 3 Steps to Finding True Career Fulfillment.
Celina uses a 3-part framework to help you cut through the noise and step into doing work you love and believe in. Get your free copy here.
---