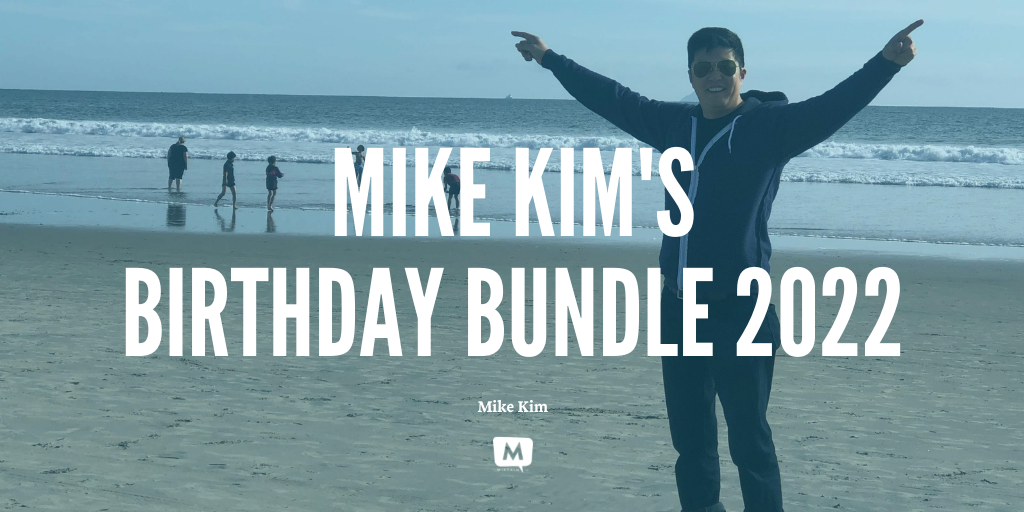 This Saturday, I celebrate my birthday.
A lot of the "stars will align" –– on Thursday I go to my friend Selena Soo's 10-year business anniversary party in NYC. Then over the weekend, some of my buddies are flying in and will meet my local friends to hangout.
These days I've been thinking a lot about my life –– maybe that's a by-product of another trip around the sun.
Life hasn't gone the way I thought and I've noticed that by default, I tend to focus on what's lacking or seemingly off-track (maybe we all do this from time to time).
That's why I'm really big on having a "gratitude practice"… I write down three things I'm grateful for, every single day. It has helped me change the narrative on what my life is "supposed" to be like.
In the spirit of gratitude, here's what I plan to say to my friends this weekend (and what I want to say to you):
If my life did not go the way it has gone, there's a very high chance I would not have met you or any of the others who may read these emails. I may not even be doing what I do now for a living.
And while my life didn't go the way I thought, I simply can't imagine my life without the people who are now in it or what I do today.
So… I'm grateful for you. Thanks for being an expansive human being. Thanks for making my life bigger, and thanks for reading some of my ramblings.
Typically on my birthday week I put some of my stuff on sale. A quick rundown:
The Six-Figure Mastermind Roadmap – $497 $97 (80% off!):
Mastermind groups provide a facilitated environment for brainstorming, learning, peer accountability, support, and new business. Every single successful entrepreneur I know in the expert space has been in and understands the power of masterminds.
That's why running a mastermind is 100% my favorite thing to do in business. Get all my scripts, intake forms, promotional strategies, and secrets for starting and growing your very own.
Get The Six-Figure Mastermind Roadmap for just $97 »
You Are The Brand LIVE 2022 – $197 – $97 (80% off!):
This is the only way to get the sessions from my conference this past April in Denver. Some highlights: "How to Explode Your Network" by Travis Chappell (an incredible talk), "Success Principles from a $50M Entrepreneur" by Tony Grebmeier, and "Mindset Isn't Everything, But It Affects Everything" by former mental performance coach for the New York Yankees, Lauren Johnson. This event received rave reviews from attendees and speakers alike.
Get You Are The Brand LIVE 2022 for just $97 »
The Six-Figure Launch Toolkit – $497 – $97 (NEW!)
I've run multiple six- and even seven-figure launches for my own business as well as clients, and this new resource will give you all the tools, checklists, strategies, as well as never-talked-about numbers behind launches.
You'll also get my pre-launch guide, sales page templates, and a no-holds-barred look at the actual numbers and strategies behind my most recent launch, which did over $150,000 in sales. Note: this product will release Monday July 18th and will retail for $497, but if you join now you can grab it for 80% off.
Get The Six-Figure Launch Toolkit »
If you want to get all three of these in a smart "birthday bundle" then you can grab everything for just $147, which is basically 50% off:
Bundle all three for just $147 »
(Note: these offers will expire Monday June 27th.)
Live Workshop Bonus:
If you register for anyone of these offers, you'll also get access to a live virtual workshop I'll host on Monday July 25th at 3pm ET.
I'm going to cover accelerating referrals, creating provocative intellectual property, and building low-labor revenue in your business (this is how I scaled my company and took five weeks off work without skipping a beat). If you can't make that workshop, a replay will be sent out.
Hosting the workshop in July will give you enough time to go through the course you register for. Every product I've mentioned above is tied to that workshop.
It's a really smart decision to take advantage of these offers, considering the value you'll get between these resources (which you'll have for life) and the live workshop.
I'll close with this quote from actress Mindy Kaling:
"Gratitude is the closest thing to beauty manifested in an emotion."
Thanks for being a part of my journey. Take advantage of these generous offers (they expire this Monday) and talk soon 🙂
Mike Kim