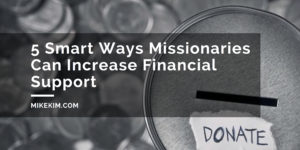 One of the greatest challenges missionaries face isn't the mission field …
It's raising support.
Granted, raising support for missions is not easy. You're busy, may well face technological challenges (try emailing from deep within the bush), and might feel like your voice is drowned out admist the noise of today's online world.
Raising support IS marketing and selling.
I realize "marketing" and "selling" can feel yucky. But in reality, all of us are engaged in some form of selling. Human psychology hasn't changed much when it comes to sales. That's why advertising techniques used a hundred years ago still work today.
It's important to understand human psychology in this regard. Donors don't give primarily because they care. Deep down, they give because it makes them feel good. Understanding this will help you be more effective in fundraising. Here are five ways to apply this:
1. Keep an online home base … in other words, a blog.
Unless you're doing work that can't be publicized, you should keep a personal blog. Facebook is NOT a home base. Zuckerberg and team can change the rules on you at any time. You own your blog. Use it to centralize all you do.
An up-to-date blog allows people to have direct interaction with you 24/7. Someone can get to know, like, and trust you by reading your blog … while you're sleeping. It's an around-the-clock fundraising pitch. This is the most foundational component of fundraising in an online world.
Need help? Visit my WordPress setup video tutorial and launch a blog in under 7 minutes.
2. Make it easy to give … with recurring payments, if possible.
Setup an easy way for people to donate automatically online. This button should be prominent on your blog. Consider the color yellow, and put text in the button like "rescue orphans" or "I'm in" or "give now." (Studies have shown that yellow buttons convert best. No joke.)
If recurring online donations can't be facilitated, clearly explain how donors can give. Make it as easy as possible. This is YOUR responsibility.
I can't tell you how many missionaries I've NOT given to … because I didn't know how. I'd hear a great pitch, see a moving video, and not have the faintest clue as to how to give. It was either too complicated, or they never told me. I could name three missionaries I'd probably be giving to right now. I don't even know where to start because — you guessed it — they don't have a blog.
How much support are you leaving on the table because you didn't make it easy for people to give?
3. Increment donation amounts.
Maybe you worry this will prevent a wealthy donor from giving you a huge gift. If a person is willing to give that much, he's not going to let incremented amounts get in the way.
People like to be told what to do. That's why marketing is full of calls-to-action. In my experience, tiers of $25, $50, and $100 work best. Amounts above that are for heavy hitters, and you'll usually leverage these types of gifts in person anyways.
Telling me you need $3,000 a month doesn't do anything. That number is too high and generic for me to take action. I'll feel like a cheapskate if I give just $10, but excessive if I give you $1,000. So guess what? I probably won't do anything.
Giving $25 or $50 and knowing this is what you asked for makes me feel good. It's not so low that I feel cheap; it's not so much that I'd have donor's remorse. Remember, it's the psychology of giving. I have a million other things on my mind. Make the increments for me.
4. Give people the gift of going second.
It's rare to find anyone that ever wants to go first. People are even scared to leave the first comment on a blog post! Show pictures of others giving. Share testimonials of others that have given to your cause.
Here's a great tactic:  be the first giver. This is incredibly powerful.
True story:  One of my clients was raising money for a relief fund. His ministry was the one receiving the donations. Know what I had him do (and say)? "I have already personally donated to this cause. Would you join me?"
Think about that. He told everyone that he gave … to his own fund … first. What was he really doing? Giving people the gift of going second. This created an immediate personal connection with his donors. It worked.
5. Cultivate relationship.
I met this guy two years ago; he was the agent of a speaker I booked for a conference. Just a few months ago, this agent contacted me via Twitter (out of the blue) to ask me to give money to his own personal music project.
First, we had very little relational rapport. Secondly, he unfollowed me on Twitter shortly after we concluded our conference, then re-followed me just to send me his pitch. After sending the message, he immediately unfollowed me again. Talk about horrible marketing.
The unfortunate thing for him:  I actually liked his music and would have contributed to his Kickstarter if he wasn't such a flake. He jumped the gun on the know / like / trust continuum.
People are still the ones giving you support, not bank accounts. It will bother people when you tell them you need $3,000 a month and only hear from you when you need it.
Leverage social media. Tweet people. Like their Facebook updates. Email. Blog. It doesn't take much time, and it will keep you from being out-of-sight, out-of-mind. Don't be like that guy.
Need to write a support letter? Take mine.

Discover the four non-negotiable components to an effective support letter.

Learn how to use interesting facts, personal touches, and powerful words that will paint a vivid picture of your mission – and move your reader to support you.

Save yourself hours of frustration writing your next support letter from scratch. Adapt and utilize this proven letter and raise more money for your cause.

And So Much More…
FREE DOWNLOAD: Ultimate Missions Support Letter Template
---
Liked this post? Check out: